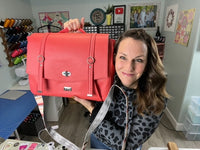 Tutorials on YouTube
Looking for sewing tutorials, material reviews, and even live sewing sessions? Then look no further than my YouTube channel. With videos posted each week, make sure you subscribe to stay up to date with all things sewing related!
Go to YouTube
Testimonials
Though there are many out there with YouTube channels offering bag tutorials, I have definitely come to the conclusion that I will attempt a bag if Kassiah has offered a tutorial. Easy to understand, doesn't beat around the bush, and has a natural teaching style. Keep the tutorials coming.

Jennifer Velazquez
I love your website, your prices are amazing and the products some of the best I have used so far. As for your you tube channel, your tutorials are very helpful and fun to watch. You inspire me to keep trying new patterns. Thank you so much.

Jacqueline EzRiana's Carrero
Your tutorials are the best! I have been making bags for a few years but every video of yours I watch, I learn something new. I look forward to each new tutorial you make!

Deb Colomb
I have learned so much from your videos!  I couldn't make bags without your help. Your videos are my favorite!  Thank you so much for sharing your expertise and please keep the videos coming. 

Robin Pyers
This thread is like MAGIC for my bags! So smooth and beautiful luster. I love everything I get from Siah Swag Bags. And her tutorials are a lifesaver! It's like hanging out with a friend while you sew.

Cat Crain Creations
Just wanted to say that I received my order for cotton strapping today. I am so excited - it is beautiful, high quality, and vibrant colors. The monitor cannot do it justice. Shipping was fast - and I got a magnet! (I don't order a lot of purse making supplies, as I spend A LOT of time at the keyboard rather than the sewing machine, so I'm new to the goodies). Thank you for top-notch customer service and sourcing a great product!

Lisa (Cici) Stewart
Whether you are a beginner in bag making or an advanced professional... Kassiah of Siah Swag Bags always delivers!  I learn something new with each and every one of her tutorials!  The videos are enjoyable, detailed and include great angles for us to see and learn from her techniques!  Her hardware and notions shop carries quality materials and offers great customer service and fast shipping.  I highly recommend Siah Swag bags!  You will not be disappointed!

Annette Pratts
Last year I launched my very first pattern and Kassiah kindly did a video sewing the Zip 'N Go by ENDesigns .  I would never have reached the audience I did without this exposure.  Not only does she do amazing videos, but they are detailed, sewn in real time and inclusive of all levels of designers and makers.  I am very thankful that I found her youtube channel.

Elona Namor
Join the Fun!
Join my Facebook community and become a part of a passionate group of active sewers who are looking to grow and share with others!
Go to Facebook